Regular box office hours are Tuesday- Friday, 12-4pm and one hour before showtime.
Call 901-453-7337 or email annie@gctcomeplay.org for assistance 
Season Show times are usually Fri/Sat 7:30pm & Sun 2:30pm 
Check for added showtimes when you scroll below
Season 52 begins with an exciting Musical!
Based on the popular 2005 novel by Rick Riordan. THE LIGHTNING THIEF is presented by arrangement with Concord Theatricals. www.concordtheatricals.com 
The Greek gods are real, and they're ruining Percy Jackson's life. As a son of Poseidon, Percy has newly discovered powers he can't control, monsters on his trail, and he is on an epic quest to find Zeus's lightning bolt and prevent a war between the gods. Normal is a myth when you're a demigod.
Showtimes are Fridays 7:30pm, Saturdays 2:30pm & 7:30pm and Sundays 2:30pm
Sensory Friendly Performance with ASL Interpreter Sat. July 29th 2:30pm
Virtual Show Playbill Scan or click
HERE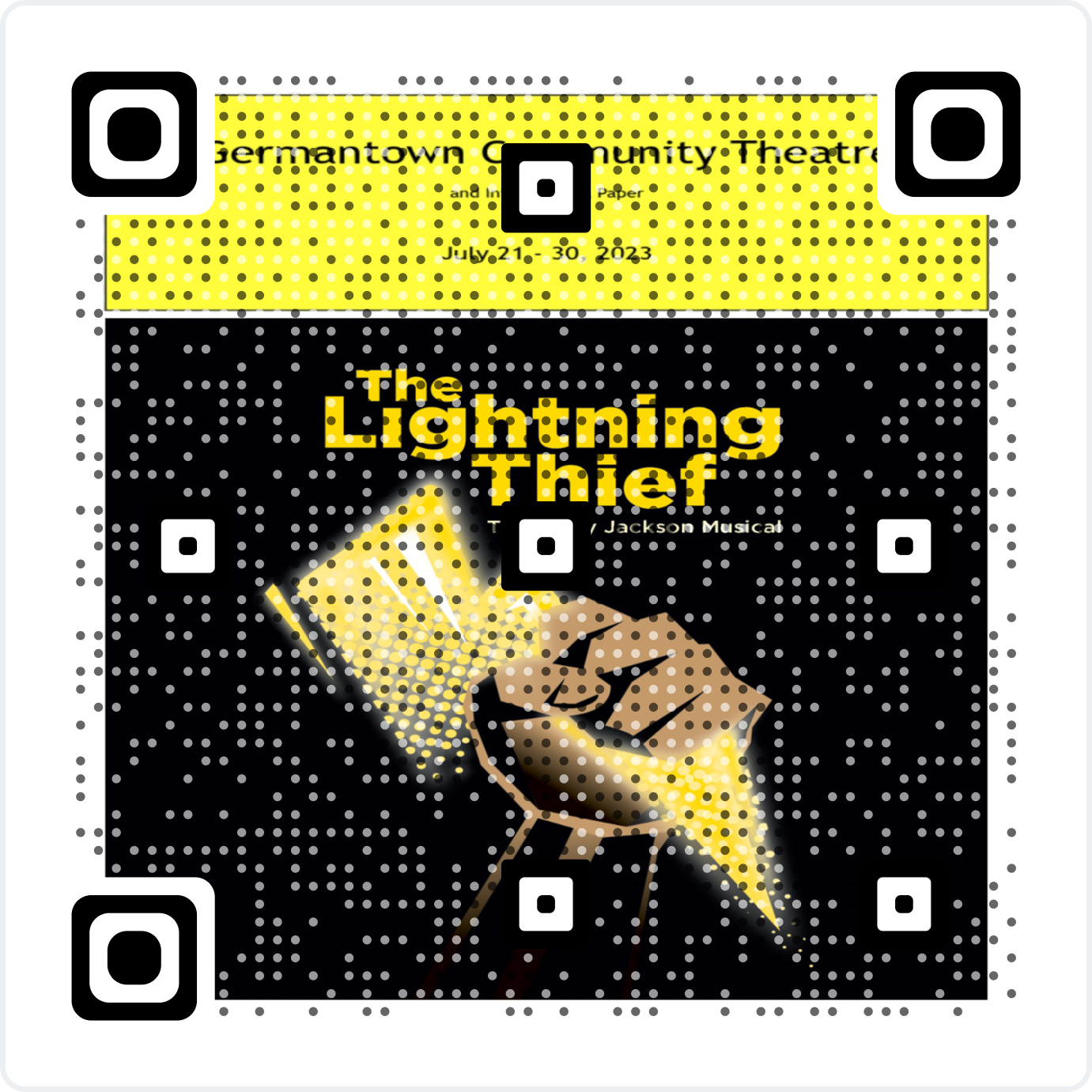 Directed by Christina Hernandez SM Corey Jeffries
CAST: PERCY- Calvin Flowers, ANNABETH- Callie Wittmann, GROVER- Grace Caldwell, 
CLARISSE/ THALIA/ ENSEMBLE- Mia Murphy, 
MR D./ GABE/ TRAIN CONDUCTOR/ ENSEMBLE- Jacob Bowling, 
MR. BRUNNER/ ARES/ ENSEMBLE- Gavin Pollan, 
LUKE/ MINOTAUR/ ENSEMBLE- Aaron Brink, 
SALLY/ AUNTY EM/ ENSEMBLE- Isabella Littleton, 
CHARON/ ORACLE/ ENSEMBLE- Karina Holt, 
MRS. DODDS/ DJ CERBERUS/ ENSEMBLE- Lois Applewhite, 
SILENA/ JANIS JOPLIN/ ENSEMBLE- Cadence Cottam, 
KATIE / FARMER/ ENSEMBLE- Jocelyn Schulte, 
HADES/ SQUIRREL/ ENSEMBLE- Sean Barbas, 
POSEIDON/ KURT COBAIN/ ENSEMBLE – Hank Smith, 
ECHIDNA/ MOZART/ ENSEMBLE- Riley Griffin, 
BIANCA/ NEWSCASTER/ ENSEMBLE – Cate Sparkman
First in the Annual Playwright's Competition for Emerging Local Authors Emily Draffen's play "Everyone and Their Mother"
Maralee's decision to "live her truth" throws her adult children's lives into chaos. George (a struggling actor) and Jackie (an exhausted mother) must learn to help themselves while their mother, for the first time in her life, does precisely as she wants. Everyone and Their Mother is a comedy dealing with the expectations we project onto family.
Showtimes are Fridays & Saturdays 7:30pm and Sundays 2:30pm 
Sensory Friendly Performance with ASL Interpreter Thursday August 24th 7:30pm
Virtual Playbill Scan or click HERE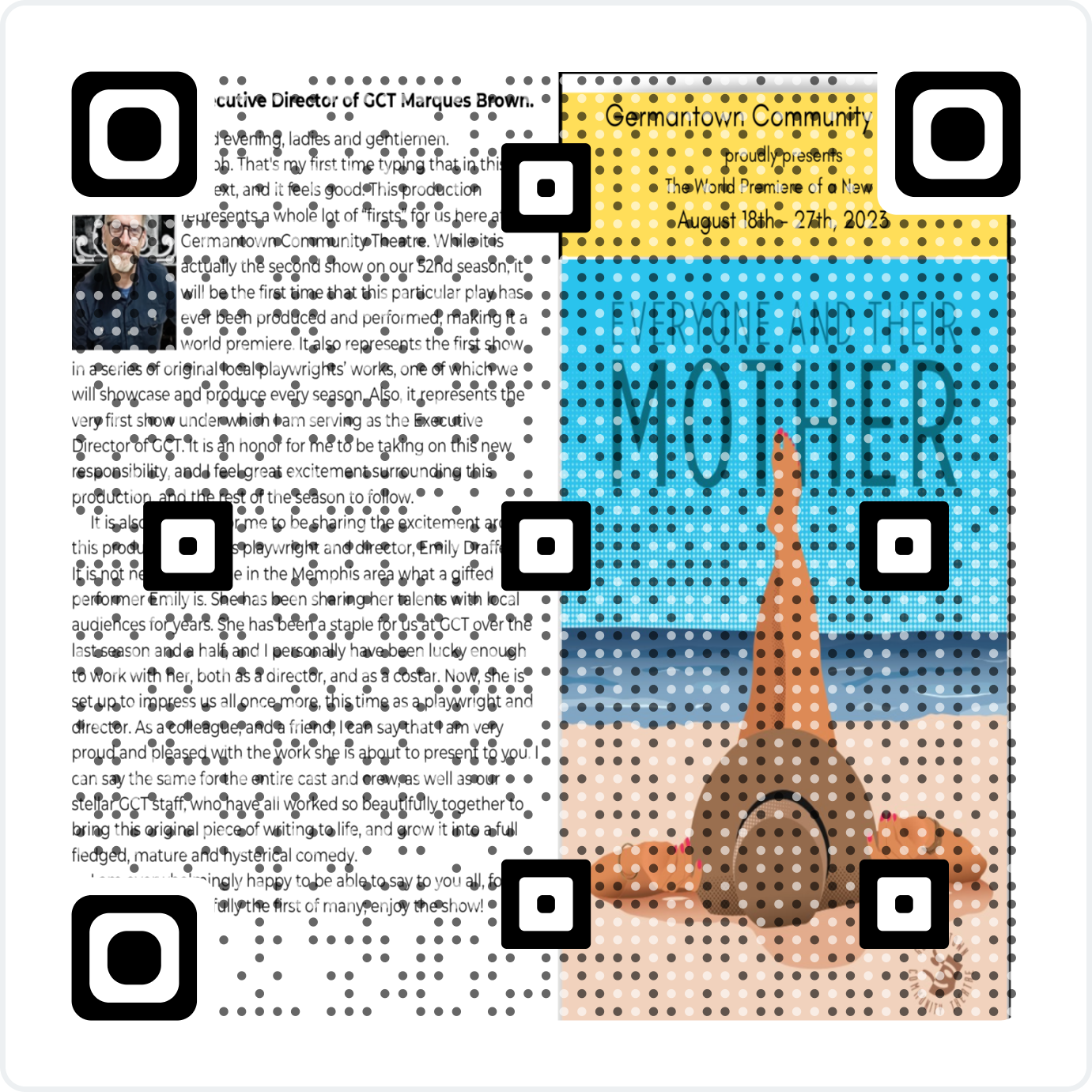 Emily Draffen also directing.
 SM Domenic Andolina
CAST: 
Maralee: Emily Angel Baer, 
George: Clark Richard Reeves, 
Jackie: Rae Kestrel, 
Robbie: Sean Moore, 
Graham: Hugh Boller-Raup, 
Sam: Hunter Steele, Understudy: Stephen Garrett
Winner of the Tony and Drama Desk Awards for Best Book, The 25th Annual Putnam County Spelling Bee has charmed audiences across the country with its effortless wit and humor. Featuring a fast-paced, wildly funny and touching book by Rachel Sheinkin and a truly fresh and vibrant score by William Finn, this bee is one unforgettable experience.
An eclectic group of six mid-pubescents vie for the spelling championship of a lifetime. While candidly disclosing hilarious and touching stories from their home lives, the tweens spell their way through a series of (potentially made-up) words, hoping never to hear the soul-crushing, pout-inducing, life un-affirming "ding" of the bell that signals a spelling mistake. Six spellers enter; one speller leaves a champion! At least the losers get a juice box. A riotous ride, complete with audience participation, The 25th Annual Putnam County Spelling Bee is a delightful den of comedic genius.
Showtimes are Fridays & Saturdays 7:30pm and Sundays 2:30pm
Sensory Friendly Performance with ASL Interpreter Sunday Sept. 24th 2:30pm
Virtual Playbill Scan or Click
HERE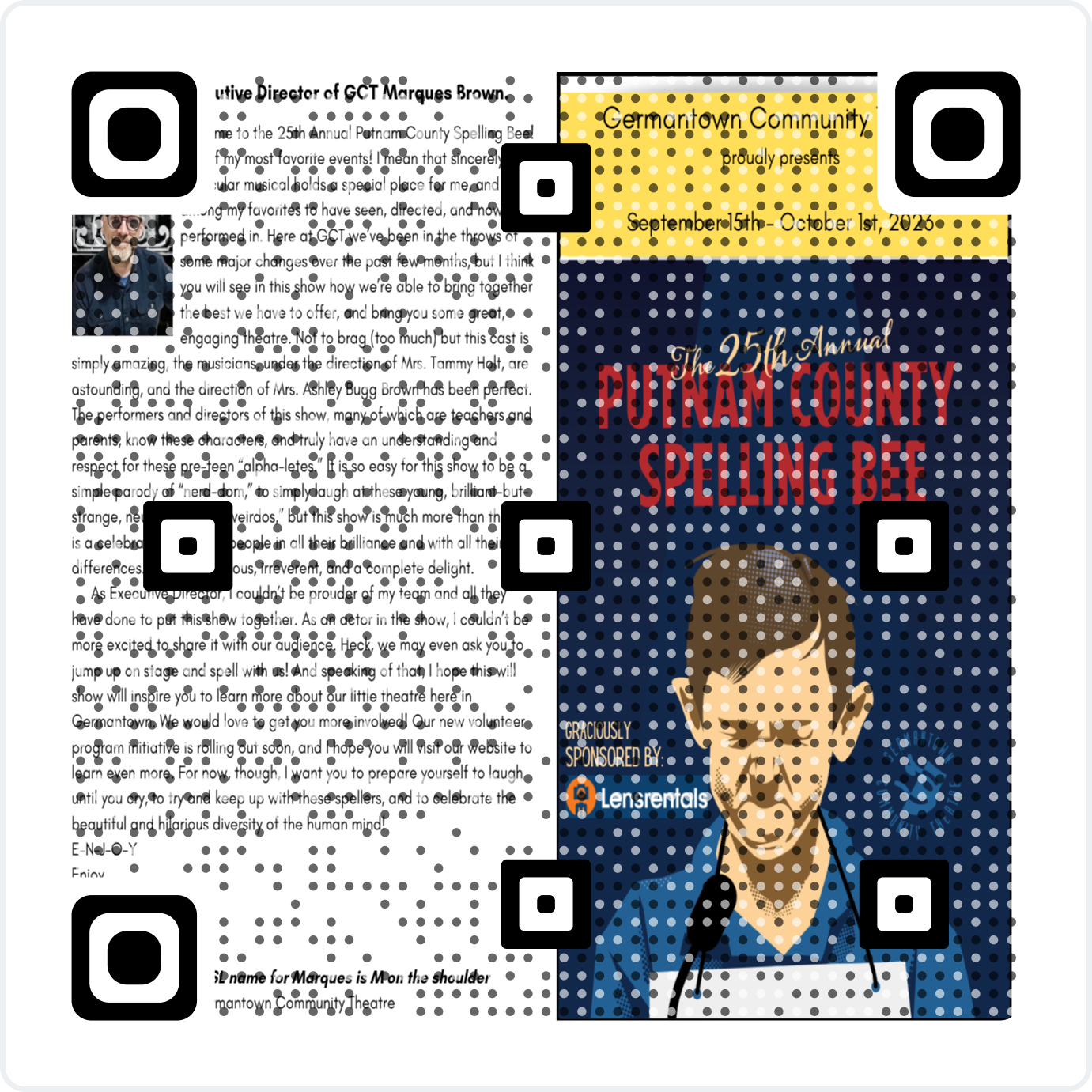 Director: Ashley Bugg Brown & Music Director: Tamatha Holt
CAST: Rona Lisa Perretti: Kell Christie,
William Barfee: Jimmy Hoxie,
Olive Ostrovsky: Mariah Chase,
Marcy Park: Carmen Martinez,
Chip Tolentino: Camden Douglass,
Leaf Coneybear: Robert Ferguson,
Logaine (Schwarzy): Renee Davis Brame,
VP Douglas Panch: Marques Brown,
Mitch Mahoney: Edward M. Holt
By Le Navet Bete and John Nicholson
Professor Van Helsing is on a mission to tell the "truth" about the terrifying story of the legendary vampire Dracula. With the help of three spirited actors playing forty characters, this breakneck adaptation takes you from spooky Transylvania to the charming English coast. A wild, zany, (almost) authentic adaptation that provides a spooktacular evening full of campy horror fun!
Showtimes are Fridays & Saturdays 7:30pm and Sundays 2:30pm
Sensory Friendly Performance with ASL Interpreter Sat. July 29th 2:30pm
Directed by Elizabeth Perkins SM Kaylyn Nichols
CAST: 
Mitchell Bentley, 
William Henry, 
Ashley Trevathan, 
Amy Rush, 
Hunter Steele, 
Julie Ervin
The return of a time honored tradition at GCT! This delightful comedy play is adapted from the best-selling Young Adult book, and has become a holiday staple across the United States!
In this hilarious Christmas classic, a couple struggling to put on a church Christmas pageant is faced with casting the Herdman kids–probably the most inventively awful kids in history. You won't believe the mayhem – and the fun – when the Herdmans collide with the Christmas story head on!
Showtimes are Fridays 7:30pm, Saturdays 2:30pm & 7:30pm and Sundays 2:30pm
Sensory Friendly Performance with ASL Interpreter Saturday December 16th 2:30pm
Director: Julie Reinbold Assistant Director Evy Allen SM: Alexa Walter-Thomas
CAST: 
FATHER (Bob Bradley) Jonathan Duncan, MOTHER (Grace Bradley) Evy Allen, BETH BRADLEY Karina Holt, CHARLIE BRADLEY Hank Lubozynski, RALPH HERDMAN Charles Catron, IMOGENE HERDMAN Piper VanGilder, LEROY HERDMAN Luke Rose, CLAUDETTE (CLAUDE) HERDMAN Elaina Taylor, OLLIE HERDMAN Quinn Lamb, GLADYS HERDMAN Harper Brown, ALICE WENDLEKEN Madden Culpepper, MRS. ARMSTRONG Jessica Cheak, MRS. SLOCUM Erin Baker, MRS. CLARK Alexia Cole, MRS. CLAUSING Evelyn Dluhos, MRS. McCARTHY Cate Sparkman, MAXINE Hailey Sheppard, ELMER HOPKINS Jackson Spann, HOBIE Macy Thomas, DAVID Michael Talarico, BEVERLY Grace Song, FIRE FIGHTER Kate Hill, FIRE FIGHTER Nora Wiggs, SHIRLEY Savannah Brewster, JUANITA Chloe Altomar, DORIS Lily Altomar, REVEREND HOPKINS Everett Vandervort, 
ANGEL CHOIR MEMBERS / BABY ANGELS / SHEPHERDS (swings / understudies) 
Parker Rose, 
Madeleine Talarico, 
Libby DePriest, 
Clara Helen Hue, 
Charlotte Gwatney, 
Kristina Romero
The Children by Lucy Kirkwood is set in 'a small cottage on the east coast', where Hazel and Robin, two retired nuclear scientists in their mid-sixties, are living. A recent disaster at the local power station where they used to work has devastated the area and they live under the threat of radiation pollution. Electricity and water are rationed and they keep a Geiger counter to check for signs of radiation. However, Hazel is determined to preserve some semblance of normality and live the healthiest life she possibly can. So, Robin now farms, while Hazel practices yoga and devours salad. But when Rose, a former colleague whom they haven't seen for 38 years, suddenly turns up, she disrupts their precariously ordered existence. Rose is determined that they must fix the problems they have caused for the next generation, even if it means certain death. Exploring issues of accountability, guilt, and morality, Lucy Kirkwood's three-hander presents a very real, post-nuclear world.
Showtimes are Fridays & Saturdays 7:30pm and Sundays 2:30pm
Show Sponsor: Fred & Brandy Miller in honor of their 50th Anniversary!
Adapted from the novel by Louisa May Alcott
Jo March isn't your typical Victorian lady. She's indecorous and headstrong, and one day she's going to be a great American novelist. As she and her sisters grow up in the middle of the Civil War, they strive to be brave, intelligent, and imaginative young women. But as adulthood approaches, each sister must negotiate her private ambitions with society's expectations. In a war-torn world defined by gender, class, and personal tragedy, Jo March gives us her greatest story: that of the March sisters, four dreamers destined to be imperfect little women.
"Ms. Hamill's feminist-friendly spin on the classics never fail to sound an engagingly original note… an ingenious compassion of Alcott's novel that is by turns funny and painfully poignant…it touched me to the heart." —The Wall Street Journal. "…Jo has always been the most compelling character by far in Louisa May Alcott's coming-of-age novel Little Women. In reworking it for the stage, Kate Hamill…has done the dramatically sensible thing and placed Jo at the center. "Kate Hamill's adaptation of Little Women…is a sublime example of how to make 19th century works relevant to modern audiences.


Showtimes are Friday & Saturdays 7:30pm and Sundays 2:30pm 
Directed by Julie Reinbold
Christopher, fifteen years old, stands beside Mrs. Shears' dead dog. It has been speared with a garden fork, it is seven minutes after midnight and Christopher is under suspicion. He records each fact in the book he is writing to solve the mystery of who murdered 'Wellington'. He has an extraordinary brain. He is exceptional at maths, while everyday life presents some barriers. He has never ventured alone beyond the end of his road, he detests being touched and he distrusts strangers. When he falls under suspicion for killing his neighbor's dog, it takes him on a journey that upturns his world.
Adapted from Mark Haddon's novel The Curious Incident of the Dog in the Night-Time which was published in 2003 and was the winner of more than 17 literary awards! Hailed as 'a phenomenal combination of storytelling and spectacle' (The Times) The Curious Incident of the Dog in the Night-Time is theatrical event not-to-be missed.
Showtimes are Fridays & Saturdays 7:30pm and Sundays 2:30pm
Directed by Marques Brown
America's favorite blonde, Elle Woods, is ready to prove who's in charge in Legally Blonde – The Musical. The ultimate Broadway tribute to girl power, Legally Blonde will take you from the UCLA sorority house to the Harvard halls of justice with the timely coming of age story of Broadway's brightest heroine.
Based on the beloved movie, Legally Blonde follows the transformation of Elle Woods as she tackles stereotypes, sexism, snobbery and scandal in pursuit of her dreams, and proves that you can be both legally blonde AND the smartest person in the room.
Things are groovy for Elle Woods but suddenly her life is turned upside down when her boyfriend dumps her so he can start getting more "serious" about his life and attend Harvard Law. Determined to get him back, Elle uses her brain and ingenuity to also get admitted to Harvard. School begins with endless struggles, but with the help of her new friends, Elle quickly realizes her potential and her strengths, as she sets out to change the narrative. This contemporary, topical story touches on many current hot button issues while delighting audiences with memorable songs and explosive dances. Legally Blonde warms the heart by proving that self-discovery never goes out of style!
Showtimes are Fridays & Saturdays 7:30pm and Sundays 2:30pm
Directed by Leah Barrett