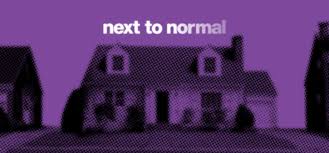 Next to Normal
Show Dates: January 31-February 16, 2020
Rehearsals start in November 2019
Directed by Olivia Gacka
Music Direction by Jason Eschhofen
Audition dates:  August 3rd and 4th
6:00-9:00 Saturday and 6:00-8:00 Sunday by appointment.  Please signup for one audition slot here.  If you cannot attend any of these appointments, please email exec@gctcomeplay.org and we will attempt to arrange an alternative audition time/type.
Thanks to a generous grant by the City of Germantown, GCT will be offering $100 gas stipends payable opening night via a giftcard for the actors in this production.
This production has been rated PG-13 by the publishing company due to adult language and themes.
Parents with minors are heavily encouraged to explore the themes of the show prior to having minors audition.  Any minors cast will need to have a participation slip signed by a legal guardian.
The director is seeking a diverse cast.  
Diana Goodman
Female, 36-50
Strong vocal actress who can use her voice to the fullest extent. Alto with chest voice to D5, head voice to F#5.
From the outset, an "everyday" housewife & mother whose plans for a career in architecture were waylaid by an unexpected pregnancy & marriage.  Upon deeper inspection, she is living with bi-polar disorder brought on by a traumatic event earlier in her life. She is at times manic, depressive, and delusional, heavily medicated & been to just about every doctor, tried almost every treatment. She is witty & self-aware, but tortured by ghosts from her past. Loves & prioritizes her children and her husband, is trying to remember to do so for herself.
Dan Goodman
Male, 36-50
Rock Baritone and very strong vocal actor. Must have a solid A4 with a few B4s. Strong falsetto to Db5.
The patriarch of the Goodman family, desperate to do whatever it takes to convince everyone, including (and especially) himself, that they have a "perfect, loving family". He is patient, kind, really tired, and loves his family. An architect who married young after a wild courtship, and is waking up in his 40s asking himself, "what happened". He is visibly guided by what he thinks is best. His own grief lingers beneath the surface as he prioritizes that of his wife.
Natalie Goodman
Female, 16~ (can be older if can feasibly pull off high school age)
Strong Soprano Belter with a pretty head voice. Belt to E5, head voice to G5.
Diana & Dan's high school aged daughter. Musically gifted, intelligent, an overachiever who struggles to step out from her brother's shadow in her mother's eyes, and from her mother's shadow in her father's. Her life has been characterized and defined by her mother's medical history. Extremely eager to graduate early & get out of her house. Her mindset that she's invisible to everyone is shattered when Henry sees her more clearly than anyone in her life ever has.
Gabe Goodman
Male, 18~ (can be older if can feasibly pull of high school age)
Strong Rock Tenor. Must have a solid/comfortable B4 with a few C5s in chest voice as well as a controlled head voice and a strong falsetto to Db5.
Diana and Dan's son and Natalie's older brother. Energetic, charming, and mischievous. Knows he's his mother's favorite, that he tortures his sister, and that his father refuses to engage with him. He is "every mother's perfect son". Very fluid movement, athletic in the way he prowls around the house.
Henry
Male, 16-18~ (can be older if can feasibly pull off high school age)
Light Bari/Tenor. Chest voice to G4 with a strong falsetto to B5
Natalie's classmate and boyfriend, who noticed her long before she noticed him. Simultaneously a good and bad influence on Natalie, Henry is a musician and describes himself as "lazy, a loner, a bit of a stoner", but is sweet and proactive when it comes to dating Natalie. A mirror of the eagerness that Dan felt when he first met and dated Diana. The audience learns about the details of the family's past alongside Henry.
Dr. Madden
Male, 30-45
Rock Baritone, very much like a classic rock star, but also able to sing very conversationally. Chest voice to A4.
Diana's handsome psychiatrist who slips in and out of being a "rock star" in Diana's fantasies.  He encourages Diana to delve into her past in a way that other doctors have not, resulting in subsequent highs and lows for Diana. Attempts hypnosis with her, so an ability to take on a calm & hypnotic demeanor that contrasts with the "rock star" is appreciated. Doubles as Diana's psychopharmacologist Dr. Fine, who is much more rigid and formal.
VOCAL GUIDELINES:
This show requires very strong singers who can act very well. Must be able to sing out the rock portions of the show, but also pull back and be very comfortable singing a conversation. Above all, the text and story should highly influence the singing.
For the audition, please bring 2 contrasting 32-bar cuts showing range. Cuts should be rock/pop/contemporary broadway. You are welcome to sing from the show, but it is not required. You MUST bring your own sheet music clearly marked and in the correct key. No singing a cappella or to a track. An accompanist will be provided.