AT  A  GLANCE:   Now producing our 47th season, GCT has been a part of the MidSouth performing arts scene since 1972.  Originally located in a chapel at St. George's church, we moved to our current location 36 years ago.  Our theatre seats 112, including 2 accessible seats.
Our normal operating hours (subject to vary) are 10 a.m. to 4 p.m., and rehearsals are taking place in the evening hours during most weeks of the year.  Box Office hours are 10:00 AM-2:00 PM Tuesday through Friday. The Box Office can be reached at 901.453.7447, and the main line is 901.453.7444.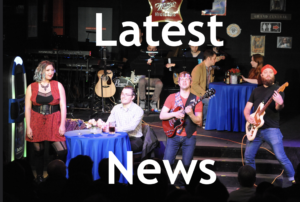 Exciting changes in GCT leadership, read more.
Congratulations to our 2017-2018 Ostrander nominees!  We are so proud of your accomplishments.
2018-2019 Memberships now on sale. Click here to see the season announcement.
Special event with Karolyn Grimes (Zuzu from the film It's a Wonderful Life) on 11/30.  Tickets are $30 and are available here for this special one time event.  Come be a part of a Q & A session with Ms. Grimes at 6:30, followed by a performance of It's a Wonderful Life.  This special event is not a part of the season membership package.        Please note we have added a performance on 11/29 for our members who would like to use their membership tickets for opening night.