GCT offers two courses in the spring and the fall of theatrical programming to our area homeschool and after school students.  These courses last between 9-12 weeks and allow students to further their fine arts education during elementary to high school years. Each spring there is a class finishing with our annual Books on Stage presentation. In the fall the Fairy Tale Trail class performs at Farm Park as part of Halloween Boo-Looza.
Fall 2023 classes will be announced soon. Be the first to know about upcoming opportunities by emailing Christina to be added to her GCT education mailing list.
FULL SPECTRUM: INCLUSIVE THEATRE WORKSHOP
This camp is geared towards teenage and adult neurodivergent members of our community. This includes individuals on the autism spectrum, those with Downs Syndrome, or those diagnosed with a learning or behavioral difference. All levels of experience and ability are welcome. This workshop will encourage self-advocacy through the creative process. Theatre professionals and education specialists will lead participants in activities that will foster social interaction and community building, as well as individual creativity, and artistic expression.
Tuition FREE thanks The Kiwanis Club of Germantown.
The current workshop has a full roster, but you can email Marques@gctcomeplay.org to inquire about future Full Spectrum volunteer and class opportunities.
The Full Spectrum Initiative seeks to continue offering these workshops and host sensory friendly performances of our season shows. Please email Marques if you want to be notified of that schedule.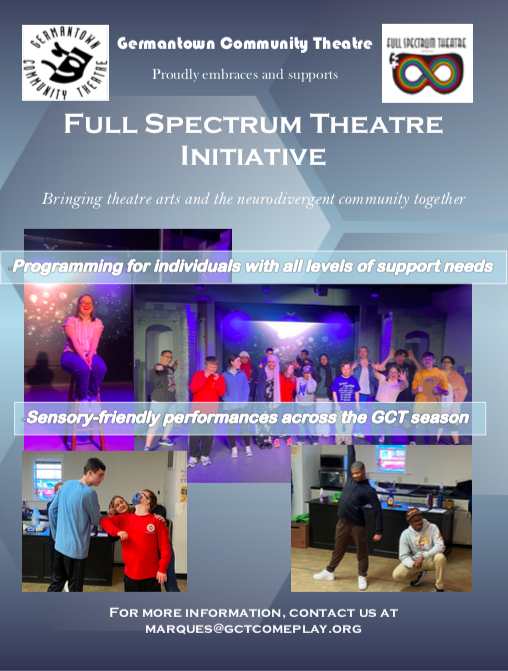 STAY TUNED FOR FALL CLASSES