In the fall, GCT offers two courses of theatrical programming to our area home school students.  These courses last between 9-12 weeks and allow students to further the fine arts education during their elementary and high school years.  GCT also participates in the NEA Big Read program every year in partnership with the city of Germantown.  This after school course for kid's aged 6-14 culminates in a performance at Farm Park as a part of Fairy Tale Trail in October.
The Spring Semester also includes two courses of Fine Arts Education homeschoolers as well as an after school program.
Have you ever wondered about how the set is designed for a show onstage? Why is it abstract? Why is it realistic? What story is the set telling?
Explore the design process of creating scenery for the stage and how to think like a scenic designer. Discover the tools and rules a scenic designer uses to tell a story and create an environment onstage!
Recommended for grades 6-12
Days: Saturdays, 10:00am -11:00am
Cost: $100
Please contact christina@gctcomeplay.org for more information. Space limited!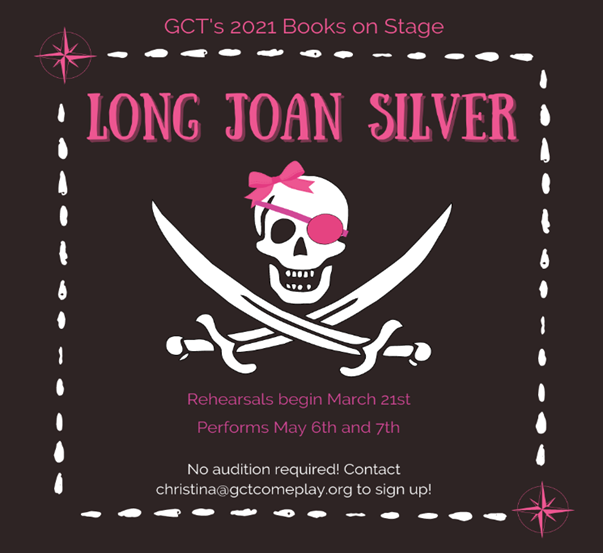 By Arthur M. Jolly
The classic adventure story of buried treasure—and the original one-legged pirate with a parrot—gets a timely makeover, combining offbeat farce, sight gags and horrendous puns with a dramatic core that explores discrimination, privilege and greed. Unlike in Robert Louis Stevenson's book, where only one unnamed character is female, women are front and center as Long Joan Silver's young Jim Hawkins comes of age during the fateful voyage of the Hispaniola and the clash between an all-female pirate crew and Squire Trelawney, Doctor Livesey and the domineering Captain Smollett.
Cost: $50
*Recommended for ages 8 and up. Some crude pirate humor and a lot of reading. We are looking for a cast of…
Cast: 8+ Female Performers, 5+ Male Performers, and 4+ Any Gender
A playwriting and acting course for homeschool students.
Let your creativity run wild! Through the study of traditional dramatic structure and exercises, students will create short original plays. Students enrolled in the course will also be performing in their fellow classmates' new works, culminating in a performance for friends and family! Students will need access to a computer at home for writing assignments and may need the editing help of a parent from time to time.
January 17th– March 14th
Mondays 1:00- 2:30
Cost: $100
*Recommended for 3rd grade and up.
Spring After School Courses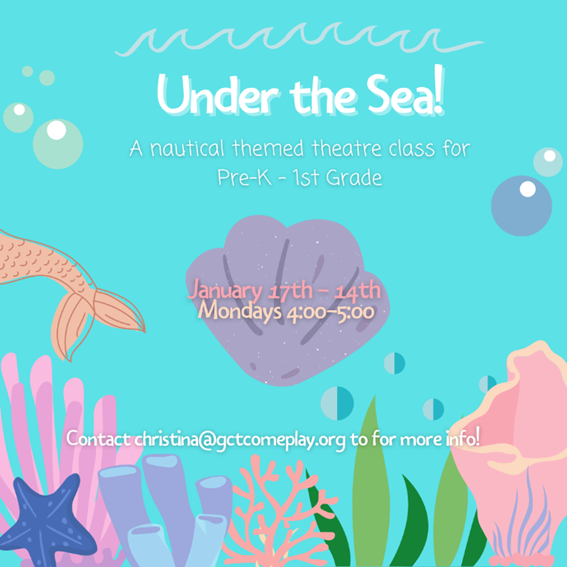 A nautical themed theatre class for Pre-K – 1st Grade.
Calling all mermaids, pirates, and sea creatures of every kind! An underwater themed adventure for our youngest actors awaits! Students will create nautical characters, study visual arts through prop and set design, play improv games, learn songs and dances from musicals and plays, and try their hand at performing onstage for an audience! This is a great way to try out theatre in a low-stress, imaginative and supportive environment. 
January 17th – February 14th
Mondays 4:00-5:00
Cost: $75
*Recommended for Pre-K – 1st Grade      
A role play acting class for 2nd grade and up!
The adventure is back! Join us for this role- play style acting class where students build their own characters, work together in choosing the paths they will take, and overcome unforeseen twists and turns along the way. This course is a great introduction to storytelling, improvising, and collaborating with fellow actors! This semester's class will feature an all-new story with new monsters, challenges, maps, and on your feet scene-work!
January 20th – February 24th
Thursdays 4:00-5:15
Cost: $100
*Recommended for 2nd grade and up. Some very light math and reading required.
Please fill out your registration form(s) and send to christina@gctcomeplay.org