In the fall, GCT offers two courses of theatrical programming to our area home school students.  These courses last between 9-12 weeks and allow students to further the fine arts education during their elementary and high school years.  GCT also participates in the NEA Big Read program every year in partnership with the city of Germantown.  This after school course for kid's aged 6-14 culminates in a performance at Farm Park as a part of Fairy Tale Trail in October.
The Spring Semester also includes two courses of Fine Arts Education homeschoolers as well as an after school program.
FULL SPECTRUM: INCLUSIVE THEATRE WORKSHOP
This camp is geared towards teenage and adult neurodivergent members of our community.  This includes individuals on the autism spectrum, those with Downs Syndrome, or those diagnosed with a learning or behavioral difference.  All levels of experience and ability are welcome. This workshop will encourage self-advocacy through the creative process. Theatre professionals and education specialists will lead participants in activities that will foster social interaction and community building, as well as individual creativity, and artistic expression.
January 12th– February 23rd
Thursdays 4:00- 6:00
Cost: $0 – All tuition paid by the Germantown Kiwanis Club.
Email Marques Brown at marques@gctcomeplay.org for a registration form.  Very few slots remain for this course.
ShakeSPLOSION!!!
 ShakeSPLOSION!!! is a madcap sprint through every play written by the Bard. From 235 years of English kings in the History Plays, to (nearly) every bloody death in the Tragedies, to every girl who dressed up as a boy in the Comedies, it's like watching Shakespeare's entire canon fired out of a cannon—scattering prose, verse and characters across the stage. Sword fights! Word fights! Witches, ghosts and murder! All in 80 minutes!! Performed by teenagers!!! 
Books on Stage is a youth acting program that requires NO audition and has a really light rehearsal schedule, making it a GREAT way for young actors to gain onstage experience. Actors will only be called as needed. Space is limited and actors MUST be available for all tech week rehearsals and performances. Please review the tentative calendars carefully. Registration forms and fee links can be found below. For more information, please contact christina@gctcomeplay.org.
*Note- NO experience with Shakespeare or classical theatre is required for this class! In fact, this is an excellent intro into the works of the Bard in a very approachable and hilarious script! We recommend this program for Middle Schoolers and up but if you have a younger student who might thrive in a fast-paced comedy and enjoys reading, reach out to me and we can see if it sounds like a good fit for them! Every student is different, and age is not always the best indicator for theatrical content.
HOMESCHOOL CAST
This year, for the first time we will have a homeschool only cast that will rehearse during the school day on Mondays, Tuesdays, and Thursdays!
Registration Fee: $50
Rehearses :Mondays, Tuesdays, Thursdays
                1:00 – 3:00 (not all actors will be called to every rehearsal)
Performs: May 11 – 13 @5:00pm
                  May 18 -20 @ 5:00pm
AFTER SCHOOL CAST
Registration Fee: $50
Rehearses:Mondays, Tuesdays, Thursdays
                   4:30 – 6:30 (not all actors will be called to every rehearsal)
Performs: May 11 – 13 @7:30pm
                   May 18 -20 @ 7:30pm
BOOKS ON STAGE-DESIGN TEAM
DESIGN TEAM CLASS
Interested in learning how to be a designer? Welcome to your first gig! This class will be responsible for designing the set, props, costumes, sound, lighting, and digital imagery for this year's Books on Stage performance of ShakeSPLOSION!!! Students will get hands-on experience in every aspect of stage design and get to see their creations brought to life for a full scale production! Students in the ShakeSPLOSION cast are welcome to add on this course if they are interested for a bundled rate.*
Registration Fee: $50
*Cast and Crew Bundle: $75
For those who would like to perform AND attend the Wednesday design class)
Meets: Wednesdays 4:30 – 6:30
*Optional build days on Fridays as needed.
Performances:  May 11 – 13 @ 5:00 OR 7:30pm
                             May 18 -20 @5:00 OR 7:30pm
*Design team must be available for tech week and performances highlighted on calendar. 
Design Team will be the show's stage crew during the run (with the exception of Cast members are in both groups) Some students will work with the homeschool cast and some will work with the after school cast, depending on availability.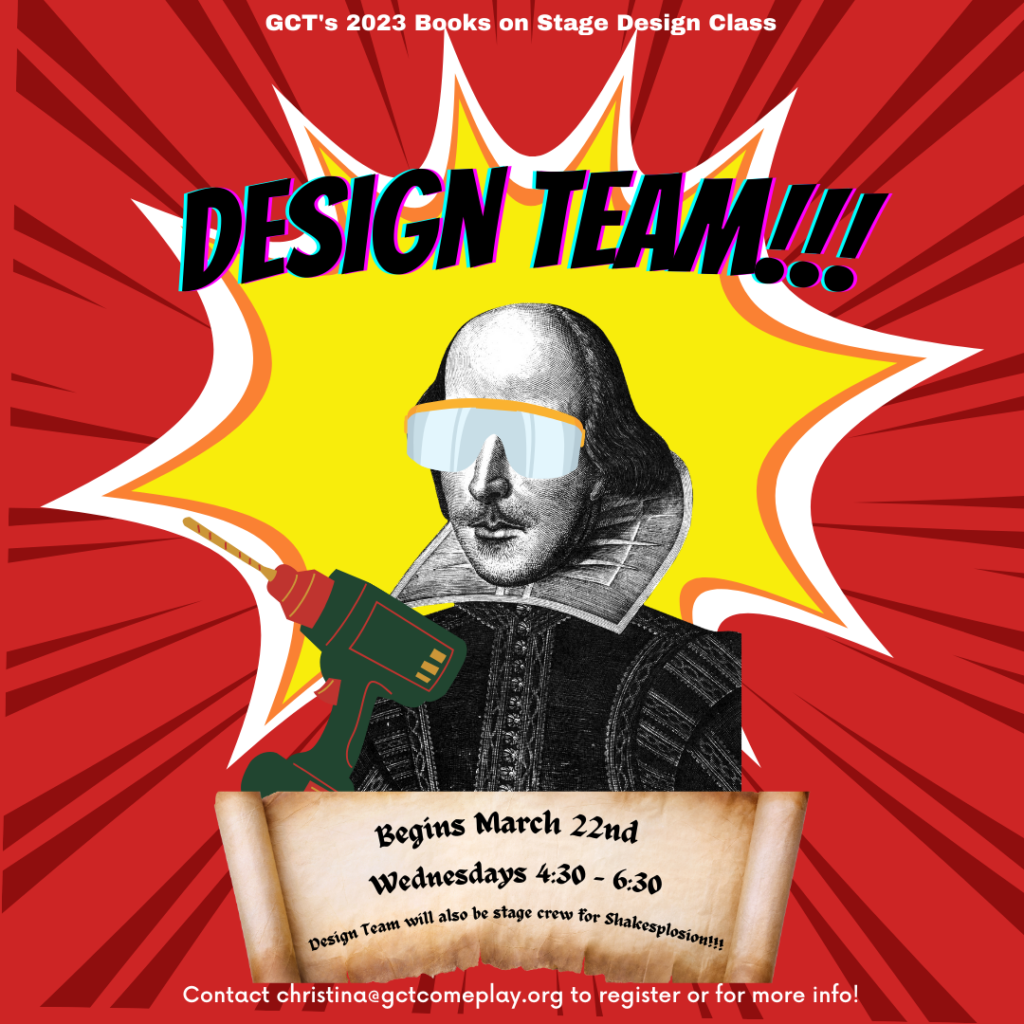 Please fill out your registration form(s) and send to christina@gctcomeplay.org