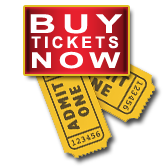 This show is proudly sponsored by Hugh and Betty Dilley.
Show runs March 22 thru April 7.
Director: Sam Weakley
Cast:
Rev. Hale-James Dale Green
Rev. Parris-Joe Prestigiacomo
Thomas Putnam-Samuel Hilliard
Willard/Cheever et al-Kashief Crain
Francis Nurse-Jerry Wakefield
Elizabeth Proctor-Chelsea Robinson
Rebecca Nurse-Sylvia Barringer Wilson
Sarah Good (& voice of Martha Corey)-Sarah Insch
Abigail Williams-Danielle Green
Abigail Williams-Tiffany Brantley
Mary Warren-Isabella Littleton
Mercy Lewis-Dilyn Doherty
Synopsis:  The story focuses upon a young farmer, his wife, and a young servant-girl who maliciously causes the wife's arrest for witchcraft. The farmer brings the girl to court to admit the lie—and it is here that the monstrous course of bigotry and deceit is terrifyingly depicted. The farmer, instead of saving his wife, finds himself also accused of witchcraft and ultimately condemned with a host of others.
Playbill: