GERMANTOWN COMMUNITY THEATRE ANNOUNCES PARTNERSHIP WITH HOUSTON HIGH CHOIR THIS HOLIDAY SEASON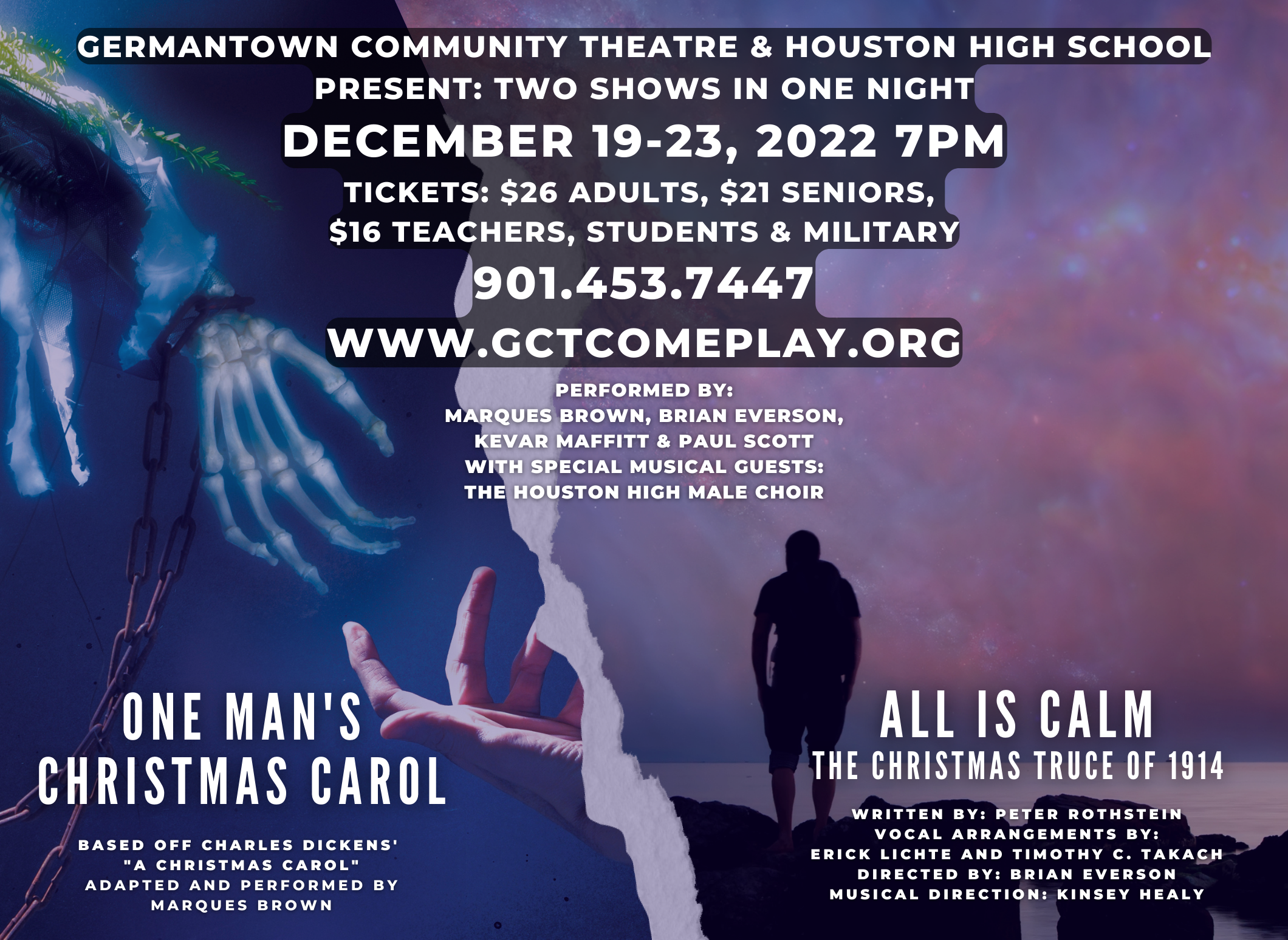 GERMANTOWN, TN 8/18/2022– Germantown Community Theatre (GCT) and the Houston High School, Choir are combining forces to stage the musical production All is Calm: The Christmas Truce of 1914. All is Calm, written by Patrick Rothstein with vocal arrangements by Erick Lichte and Timothy C. Takach and is the western front during World War I, tells the events of Christmas, 1914. Out of the violence a silence, then a song. A German soldier steps into No Man's Land singing "Stille Nacht." Thus begins an extraordinary night of camaraderie, music, and peace. A remarkable true story, told in the words and songs of the men who lived it.
Our programming committee loved this production, and we struggled with how to produce it during our already packed Holiday production season," states Brian Everson, Executive Director of GCT.  "After discussing the project with Ms. Healy at Houston, we felt we finally had a path to tell this magnificent true story." 
GCT is currently scheduled to produce Peter and the Starcatcher in December as its annual student holiday production from December 9-18th as a part of its 51st season.  All is Calm will be run in rep with an original one-man version of A Christmas Carol conceived and performed by Marques Brown from December 19-23 at 7:00pm each evening.
"Our hope is that GCT can create some amazing holiday memories for our community.  Our holiday shows almost always sell out, so we felt there was a desire for more entertainment options for families around the holidays," Everson continues.  "Having a partner as talented as the Houston Choir should create a beautiful production for all attendees. It also gives a unique opportunity for our adult actors to perform with a skilled choir."
The story of All is Calm is told through the real-life letters that British, French, German, and Italian soldiers wrote home during World War I and is interspersed with acapella war songs and Christmas Carols popular during the time period.
"The Houston Choir is very excited to perform on the GCT stage this December," states Kinsey Healy, the Houston High Choir director. "I am especially thrilled to perform a piece that highlights our choir's tenors and basses' abilities and talents."
Tickets for All is Calm: The Christmas Truce of 1914 and A Christmas Carol go on sale September 1, 2022.  One ticket provides access to both productions which run around 45 minutes a piece each evening separated by an intermission. All proceeds from the ticket sales will go to support the high school choir at Houston and the educational department at GCT.