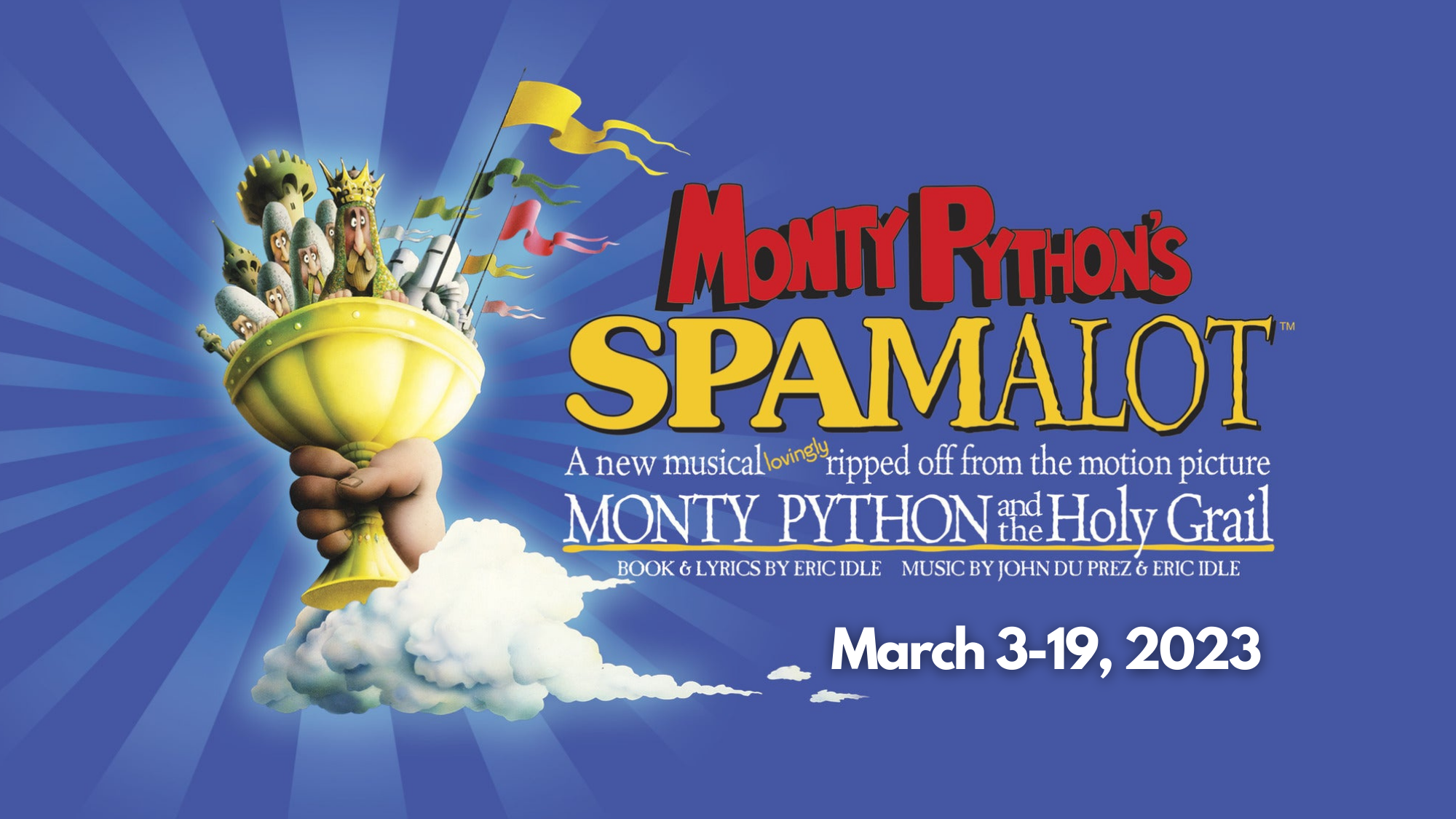 Spamalot Audition Notice
Germantown Community Theatre announces the auditions for Monty Python's Spamalot.
Directed by Leigh Ann Evans
Music Direction by Tamatha Holt
Choreography by Leah Barrett
Performs March 3-19, 2022
Audition Dates
October 1st
1:00pm-4:00pm
October 2nd
6:00pm-9:00pm
Callbacks
TBD (if necessary)
Please arrive at the beginning of the audition times either date. No appointment necessary. Prepare 16 bars of an appropriate song to
sing at the audition and dress comfortably for a dance audition. An accompanist will be provided, or you may sing along to an instrumental track that you bring with you. Singing acapella is not advised. In addition to singing and dance, there will be cold readings from the script.
GCT is seeking performers for the following roles*:
KING ARTHUR (Male presenting Baritone, Late 30s-60s) – The King of England, who sets out on a quest to form the Knights of the Round Table and find the Holy Grail. Great humor. Good singer.
SIR ROBIN (Any Gender, 20s-50s) – A Knight of the Round Table. Ironically called "Sir Robin the Brave," though he couldn't be more cowardly. Joins the Knights for the singing and dancing. Also plays GUARD 1 and BROTHER MAYNARD, a long-winded monk. A good mover.
PATSY (Any Gender, 20s-50s) – King Arthur's horse and servant. Under-appreciated but always longing for Arthur's approval. Good, funny, physical mover with some tap dancing. Also plays MAYOR, a jolly red-faced man who advertises the merits of his hometown; and the drunken, useless GUARD 2. Very good mover. Tap skills a bonus.
SIR BEDEVERE (Any Gender, 20s-50s) – A Knight of the Round Table. An inept scholar. Also plays DENNIS GALAHAD'S MOTHER, a shrill peasant woman; and CONCORDE, Sir Lancelot's horse.
HISTORIAN/NOT DEAD FRED/ PRINCE HERBERT/ MINSTREL/ FRENCH GUARD (Any Gender, 20s-40s) – A tweedy academic. Also plays NOT DEAD FRED, a sickly little fellow who — despite others' beliefs — claims he is "not yet dead"; a FRENCH GUARD, the condemnatory sidekick to the French Taunter; a MINSTREL in Sir Robin's band; and PRINCE HERBERT, the hopeful and frilly prince who loves to sing and pines for his love atop a tower. Tenor singing required. Very good mover.
ENSEMBLE (Any Gender)– Seeking strong dancers and singers to play many roles including the other Knights of the Round Table, Sir Not Appearing, Sir
Bohrs, Bodies in "Not Yet Dead," the Dancing Monk, the Dancing Nun, Laker Girls, French Citizens, Finland Citizens, a French Guard, Robin's Minstrel, Nights
of Ni and more! Strong dance skills preferred; tap skills a bonus.
*The roles of Lancelot, Galahad, and Lady of the Lake have been filled.